[Eficacia comparativa de distintas estrategias en el manejo de malezas en trigo]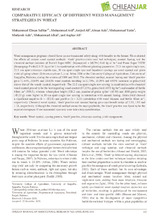 Autor:Safdar E., Muhammad; Asif I., Muhammad; Alí, Amjed; Aziz, Ahsan; Yasin, Muhammad; Aziz, Mudassir; Afzal, Muhammad; Alí, Asghar
Serie Documental: Chilean Journal of Agricultural Research
N° Documento: v. 71(2) p. 195-204
El programa de manejo de malezas también debe centrarse en la seguridad del medio ambiente junto con el beneficio de agricultores. Se evaluó el efecto de diferentes métodos de control de malezas, es decir, la práctica daab (técnica de la falsa cama de la semilla), azada manual, y el método químico (Buctril Super 60EC [bromoxinil + MCPA] 0,45 kg ia ha-1 y Súper Puma 75EW [fenoxaprop-P-etil] 0,75 kg ia ha-1) en combinación con la plantación en diferentes geometrías: 22,5 cm de distancia en una hilera, 22,5 cm dos hileras entrecruzadas, 30 cm de separación en una hilera, y siembras al voleo sobre el control de malezas y el rendimiento de grano de trigo de primavera (Triticum aestivum L.) var. Sehar 2006 de la University College of Agriculture, University of Sargodha, Pakistan, durante los inviernos de 2009 y 2010. Método químico, azada manual y la practica daab dieron 71,44%, 30,69% y 28,60% de control de malezas que resultaron en aumentos de 11,79%, 11,09% y 4,95% en rendimiento de grano sobre el control con maleza, respectivamente.
Enlace persistente:
https://hdl.handle.net/20.500.14001/30557
Citar esta publicación:
Safdar E., Muhammad, Asif I., Muhammad, Alí, Amjed, Aziz, Ahsan, Yasin, Muhammad, Aziz, Mudassir, Afzal, Muhammad y Alí, Asghar (Abr-Jun 2011) [Eficacia comparativa de distintas estrategias en el manejo de malezas en trigo] [en línea]. Chilean Journal of Agricultural Research. v. 71(2) p. 195-204. Disponible en: https://hdl.handle.net/20.500.14001/30557 (Consultado: ).