[Reducción en radiación artificial con malla reduce estrés y mejora la productividad de arándano ojo de conejo (Vaccinium virgatum Aiton) Ochlockonee]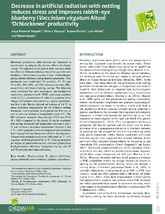 Autor:Retamal S., Jorge; Vásquez, Robert; Fischer, Susana; Hirzel C., Juan; Zapata S., Nelson
Serie Documental: Chilean Journal of Agricultural Research
N° Documento: v. 77(3) p. 226-233
Blueberry production under netting has increased in recent years to mitigate the adverse effects of climate change. The objective of the present study was to evaluate the effect of different radiation intensities on rabbit-eye blueberry (Vaccinium virgatum Aiton) 'Ochlockonee' photosynthetic efficiency and productive parameters. Four treatments were established: T1 (control), T2, T3, and T4 at 0%, 30%, 60%, and 90% radiation decrease (RD), respectively, with black shedding netting.
Enlace persistente:
https://hdl.handle.net/20.500.14001/31004
Citar esta publicación:
Retamal S., Jorge, Vásquez, Robert, Fischer, Susana, Hirzel C., Juan y Zapata S., Nelson (Jul-Sept 2017) [Reducción en radiación artificial con malla reduce estrés y mejora la productividad de arándano ojo de conejo (Vaccinium virgatum Aiton) Ochlockonee] [en línea]. Chilean Journal of Agricultural Research. v. 77(3) p. 226-233. Disponible en: https://hdl.handle.net/20.500.14001/31004 (Consultado: ).