[Aplicación de redes neuronales artificiales para la detección de heladas en el Centro de Chile utilizando el pronóstico de temperatura mínima del aire para el día siguiente]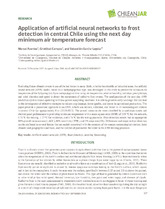 Autor:Fuentes, Marcel; Campos, Cristóbal; García L., Sebastián
Serie Documental: Chilean Journal of Agricultural Research
N° Documento: v. 78 (no. 3) p. 327-338
Predicting future climatic events is one of the key issues in many fields, whether in scientific or industrial areas. An artificial neural network (ANN) model, based on a backpropagation type, was developed in this study to predict the minimum air temperature of the following day from meteorological data using air temperature, relative humidity, radiation, precipitation, and wind direction and speed to detect the occurrence of radiative frost events. The configuration of the next day ANN prediction system allows operating with low-power computing machines; it is able to generate early warnings that can lead to the development of effective strategies to reduce crop damage, lower quality, and losses in agricultural production. This paper presents a procedural approach to an ANN, which was trained, validated, and tested in 10 meteorological stations in central Chile for approximately 8 yr (2010-2017).
Enlace persistente:
https://hdl.handle.net/20.500.14001/31104
Citar esta publicación:
Fuentes, Marcel, Campos, Cristóbal y García L., Sebastián (Jul-Sept 2018) [Aplicación de redes neuronales artificiales para la detección de heladas en el Centro de Chile utilizando el pronóstico de temperatura mínima del aire para el día siguiente] [en línea]. Chilean Journal of Agricultural Research. v. 78 (no. 3) p. 327-338. Disponible en: https://hdl.handle.net/20.500.14001/31104 (Consultado: ).