The impact of mild frost occurring at different harvesting times on the volatile and phenolic composition of virgin olive oil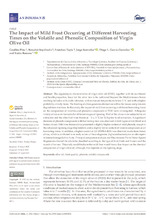 Autor:Pino, Catalina; Sepúlveda, Betsabet; Tapia C., Francisco; Saavedra, Jorge; García G., Diego; Romero, Nalda
Serie Documental: Antioxidants
N° Documento: Vol.11 (no. 5)
Las características organolépticas del aceite de oliva virgen (AOV), junto con sus propiedades nutritivas y saludables, han llevado a que el olivo se cultive más allá de la cuenca mediterránea, llegando a latitudes con climas más fríos, con temperaturas mínimas inferiores a 0ºC y con mayor probabilidad de las primeras heladas. La congelación de aceitunas genera destrucción en los tejidos y favorece reacciones de degradación. En este estudio, se investigó el impacto de las heladas leves que ocurren en diferentes momentos de la cosecha en la composición de compuestos volátiles y fenólicos en AOV. Las aceitunas de la variedad arbequina se recolectaron en diferentes estados de maduración.
Enlace persistente:https://hdl.handle.net/20.500.14001/68512
Objetivos de desarrollo sostenible
N°13: Adoptar medidas urgentes para combatir el cambio climático y sus efectos
Citar esta publicación:
Pino, Catalina, Sepúlveda, Betsabet, Tapia C., Francisco, Saavedra, Jorge, García G., Diego y Romero, Nalda (2022) The impact of mild frost occurring at different harvesting times on the volatile and phenolic composition of virgin olive oil [en línea]. Stanley Omaye: Antioxidants. Vol.11 (no. 5). Disponible en: https://hdl.handle.net/20.500.14001/68512 (Consultado: ).